Pro Gaffer Cloth Tape - Fluorescent Green
Tape- Gaffer
Pro Gaff
T194
50mm x 45m (2"x50y)
Cloth tape
2", Premium Gaffer, Permacel, Pro Gaff, Pro Tapes & Specialties, fluro, fluroscent, gaffer, cloth, cloth tape,
In Stock
Description
Industrial grade vinyl-coated Gaffer's tape.
Natural rubber adhesive
Abrasion resistant
UV resistant
Available in a host of colors, Pro-Gaff is used for temporary mounting of lighting fixtures and reflectors; for the moisture and dust-proof sealing of equipment cases and film containers; for bundling and positioning of floor cables; and floor marks for actor's positioning.
Pro-Gaff is an economical, high strength vinyl impregnated cloth tape with a matte finish. It has a high performance adhesive system and is highly conformable to the demands of the Film and Television industry.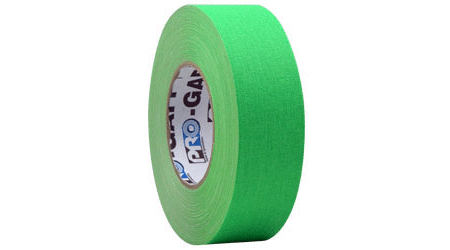 Download ( MSDS Pro Gaff Tape — application/pdf — 118.9 KB )